The Kent Family in Jersey
This is just a collection of notes, anecdotes, and information I have gathered over the years. I thought it would be useful to bring it all together in one place. My original information about the Kent family came from a conversation I had with George Kent (I think, but it might have been William) at the South Pier boatyard in St Helier around 1982. I was just about to leave Jersey to go to university in England and had an idea that I would never go back to live there. I wanted to find out as much as I could from people who still knew and remembered.
For the Jersey census information, I have to thank Paul Osborn who has access to the tools and did some research for me.
Our branch of the Kent family in Jersey originated with George Louis Kent (b. 1844). He was a fisherman from Portsmouth who became caught up in a fishing dispute between Jersey/France/England around 1860. The story I heard was that the English fishing boats were impounded in Gorey harbour and several of the masters were imprisoned in Mont Orgeuil; they were released when their colleagues took the bowsprits off their vessels and battered the gates to the castle down, although that seems a bit unlikely.
I also heard that George had a brother and sister in Portsmouth, called James and Charlotte, and that the family was related by marriage to a family called Mills. There is some evidence (see below) that James and Charlotte later followed George to Jersey.
Note: I have since been contacted by Grant Blakeley who is also related to the Portsmouth Kents. He has kindly put together this family tree (PDF) for my side of the family. He has also confirmed the Mills connection (PDF).
George settled in Jersey and married Adelina Louise Leplanquais (b. 1841, Coutances). They were married in Coutances. Adelina was supposedly a Huguenot (French Protestant) but they were married as Catholics in Coutances cathedral, suggesting that either she was not a Huguenot or that her family converted to Catholicism, which would have allowed them to stay in France after the Revocation of the Edict of Nantes. I was told that her father was a watchmaker and lived at Gorey, which is where she might have met George.
George and Adelina had seven children. This is an extract from the 1881 Channel Islands Census:
| Name | Gender | Age | DOB |
| --- | --- | --- | --- |
| George | Son | 13 | 1868 |
| Adeline | Daughter | 10 | 1871 |
| William | Son | 8 | 1873 |
| Henry | Son | 6 | 1875 |
| Charles | Son | 4 | 1877 |
| Frederick | Son | 3 | 1878 |
| Blanche | Daughter | 9 months | 1881 |
And here is a picture of the family taken in 1888: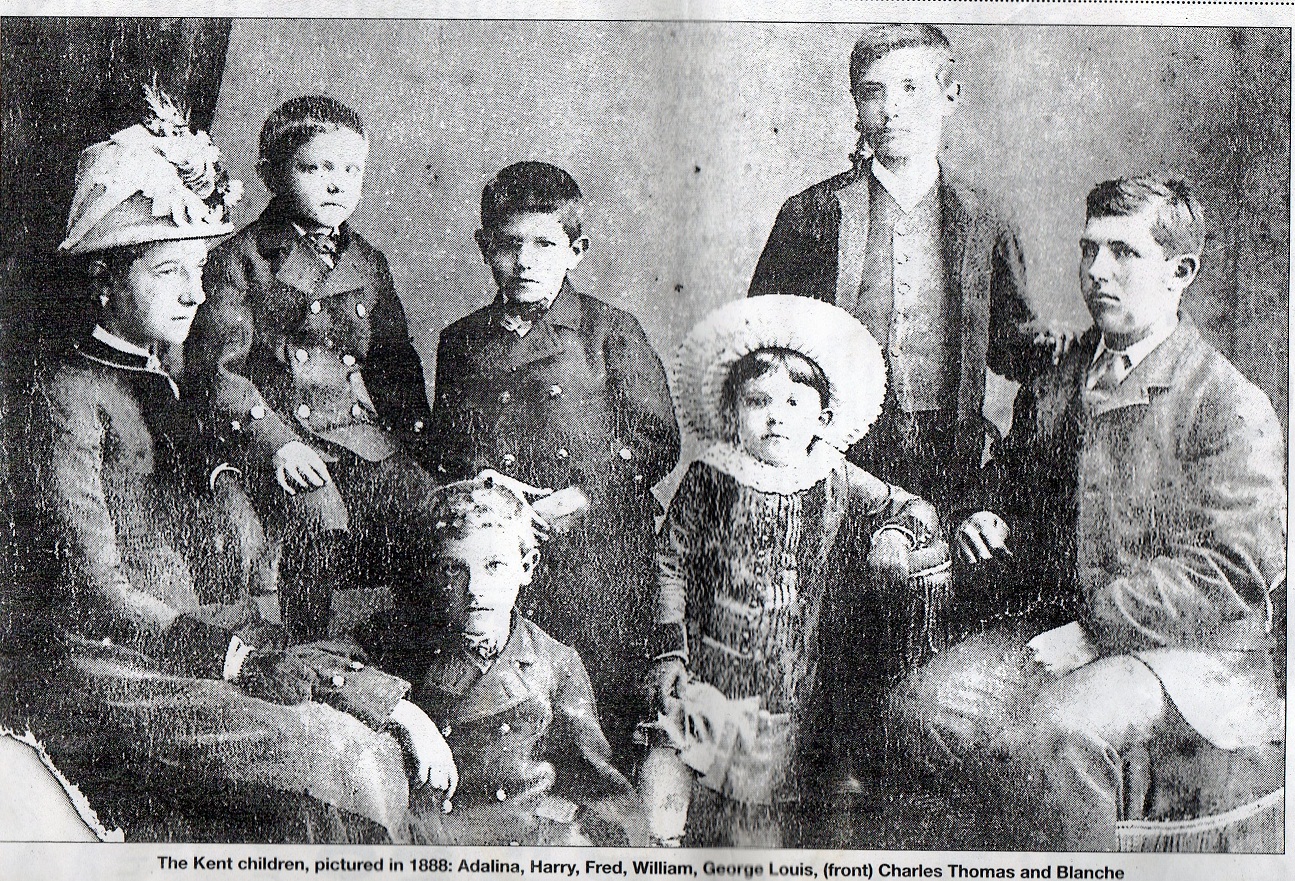 George the elder went back to sea but the 1881 census shows him as 'Captain (absent) Army officer'. During the late 1880s he was master of the Chazalee (spelling?) but was unable to sail due to illness, so his brother James took over as master for one voyage; during that voyage the vessel was lost without trace. George didn't recover from the illness that stopped him sailing and in the 1891 census Adelina is shown as a widow. (The fact that James/Jimmy took over as master might imply that he was also living in Jersey at that time.)
The above photo was printed in the Jersey Evening Post on the 21 April 1999, without any identification of the family. On the 22 October 1999 a follow-up article was written after George Kent junior-junior (from the South Pier boatyard) had written to the JEP identifying the photo. Below is the text of the JEP article.
The photograph [above] was published in the JEP on 21 April, and I had no information about it at all.
However, our trusty readers leaped into the breach, and I am delighted to say that David Coom and Jackie Godfrey, who are related through the family in the photo, have furnished me with a plethora, I would even go so far as to say a veritable treasure trove, of information.
These solemn youngsters were the offspring of George Louis Kent, originally from Portsmouth, who came to Jersey to work in the oyster fisheries at Gorey, and Adalina Louise Leplanquais, born 1841 in Coutances.
After her husband died, Adalina ran a small dairy in the Parade for a while, and lived in Church Street until her death.
In the photo, her children are, left to right: Adalina, who later became a nun and is thought to have died in Guildford during the Second World War; Harry (Henry); Fred, who is thought to have gone to Newcastle1; William, and George Louis. The two in the front row are Charles Thomas (Charlie), who is Jackie's grandfather, and Blanche, who is David's grandmother, and it is thought that the picture was taken in around 1888.
Charlie was Kent the master butcher, in the Central Market. He married twice and his second wife, Yvonne, still lives in Jersey and is 90 years of age. The children of his first marriage were Charles Arthur (Laddie), Arthur George and Georgina, Jackie's mum. Laddie was also a master butcher like his father, and a longstanding member of the Jersey Motor Cycle and Light Car Club, while Arthur was a renowned billiards player and the sports editor here at the Evening Post for a good number of years. Georgina (Ena) also worked here for a while, and turns up in numerous JSC photos.
Blanche Kent married Frederick Coom at the end of the 1800s. Frederick had been a pastry cook at Gaudin's, and the couple ran the Weighbridge Cafe during World War I, then the Central Restaurant in Library Place, and then the Halkett Cafe, which is where the Chinese restaurant stands now.
Their son William (Bill) founded South Pier Shipyard. [This is wrong; the shipyard was founded by William Kent and was originally called 'Kent's Shipyard' - RK.]
William Kent, meanwhile, was a founder member of the St Helier Yacht Club along with brother Charlie, and was the first Commodore of the club.
He was born at sea, and was called up in WW1, serving his time as an aircraft engineer at the Calshot seaplane base, in the Solent. He was a firm believer that St Helier Yacht Club should be for the working man, and in his day the committee backed him on that viewpoint, refusing to change the rules of membership to allow only the wealthy to join, a view which I understand holds to this day.
One of the other brothers, George Louis Kent, trained at the Nautical Training School at Gorey and operated the Jersey-built ketch Amelia Jane, constructed at the Allix shipyard in 1874.
He ran the vessel up to and including the First World War and was frequently in the convoy from Lezardrieux to the UK. His son, George junior, worked for many years at the Harbour Office and, once he had retired from there, at South Pier Shipyard.
My thanks to both Jackie and David for all the details — it is such a pleasure to know not only who the subjects of an old photograph are, but something about their lives as well.
1. Frederick did indeed go to Newcastle and I was contacted in January 2012 by his granddaughter, Brenda Riley, who provided this information: "I can tell you that Fred married Margaret Ann Mullinder in Newcastle in 1904. He was on the Gateshead Census in 1901 ... and his occupation is registered as a Boat Shop Manager... They had two children - Margaret Adelina (born 1906) and Frederick Joseph (born 1910)." [Note how the name 'Adelina' persists like a family meme - RK.]
Along with the family photo, the JEP printed the following photos of the five sons later in life. My grandfather looks about 50, which would date it to the late 1920s or early 1930s. Frederick is also in the photo which means he must have returned from Newcastle at least once: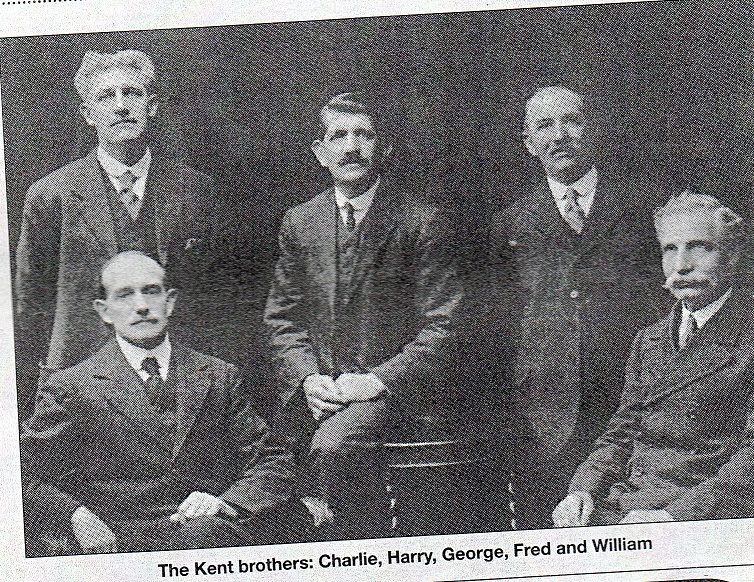 They also printed a photo of Adelina senior: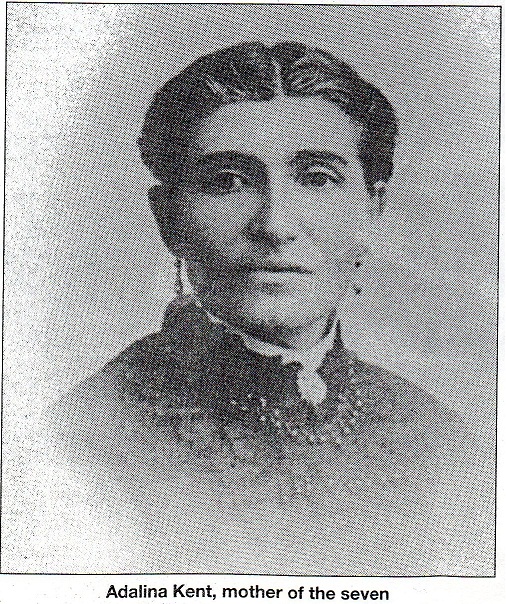 The other information I have about the children is:
George married Anne Dyer and had one son, George (the person who submitted the information to the JEP and mentioned in the article).
William married Jane Vincent - no children.
Frederick married Margaret Ann Mullinder in Newcastle in 1904. They had two children - Margaret Adelina (born 1906) and Frederick Joseph (born 1910).
Harry/Henry married Angela Guernier - no children.
Charles [my grandfather] married Georgina Dumond and had three children (mentioned in the JEP article). Then married Yvonne Allain [my grandmother] and had two children, Allan [my father] and Therese.
Adelina entered a convent and died in Guildford.
Blanche married Frederick Coom.
Charles' second wife was my grandmother, Yvonne Allain. Her parents came from Brittan